What Are The Benefits Of 5G To A Large Indoor Venue?
Published: 21 December 2021
Large high-traffic indoor venues such as airports, stadiums, and exhibition centres have always been a prioritized target by operators to create an excellent end-user experience through dedicated indoor coverage. The rapidly growing data demand and evolving user expectations are driving operators to enhance network capacity. The common practice to achieve capacity expansion is to add a new LTE layer for multiple frequency bands. When all legacy LTE bands have been deployed, the sector splitting comes next. However, it is difficult to avoid the inter-sector interference, posing the challenges of re-sectorization in large venues. Therefore, instead of adding a new sector in the existing spectrum, adding a 5G layer in C-band (or CBRS) gives operators new room for capacity expansion.
Is there a strong market demand for 5G indoor coverage? Based on GSMA Mobile Economy Report 2021, 5G subscriptions will reach 1.8billion globally in 2025, which is equal to 21% of total mobile subscriptions. Currently, at least 459 of 5G phones are commercially available [1], and many people are already using 5G capable phones. Besides, 169 operators in 70 countries or territories have announced 3GPP-compatible 5G service launches [2]. However, the consistent indoor mobile experience is the main concern for most people, regardless of LTE or 5G. So 5G indoor deployment is anticipated to start from major cities where data traffic demand is extremely high, to offload the LTE network. Of course, it should be deployed in higher frequency bands like n77, n78 or CBRS.
Improvement from user perspective
5G promises higher data speed, enabling end users to complete a download or upload session in a shorter period of time. Better resource utilization among users is achieved. In other words, more users can use the network. According to OpenSignal report [3], an analysis report studying the actual user experience improvement based on live 5G commercial network 5G users' experience is improved up to 36.6% in video, and up to 65.2% in gaming, compared to 4G. The improvement per operator network is shown in Figure 1.
Furthermore, 5G significantly enhances both download (up to 1775.2%) and upload (506.9%) speed compared to 4G network. Although this may not be an apple-to-apple comparison, when more users are offloaded to 5G, the overall users' experience will be elevated when network load is optimized granularly.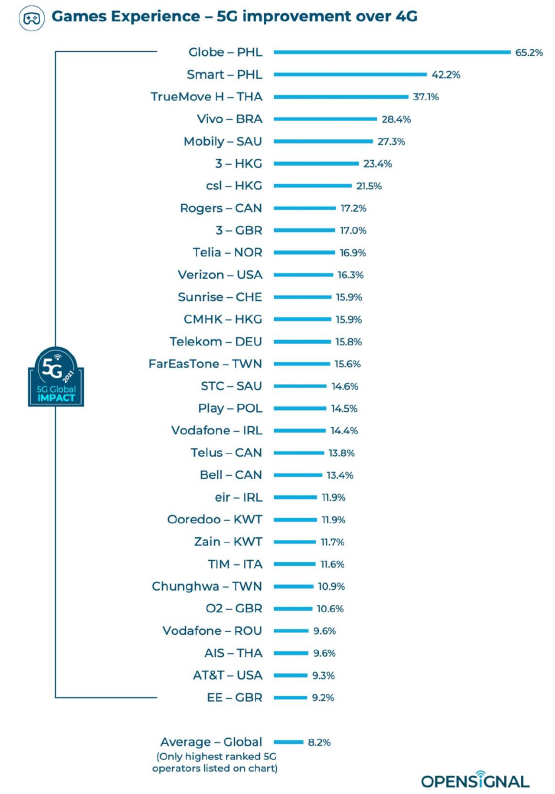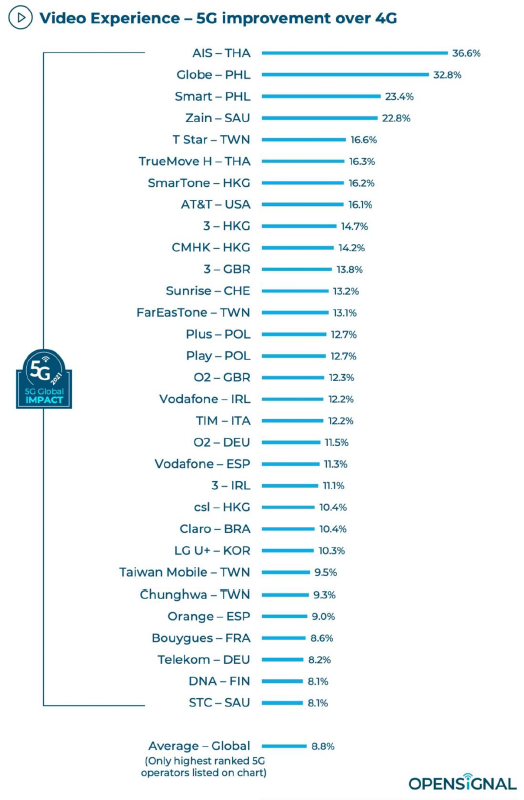 Figure 1: 5G improvement over 4G in games and video experience [3]
Besides data speed, 5G also opens up opportunities for building owners and operators to offer new value-added services.
Here are a few examples of some possible use cases.
Media & Advertisement: Promotional content can be displayed on the digital signage installed in various locations over 5G networks.

Applicable venues: Malls, Stadiums, Airports, Exhibition Centres

Indoor navigation: Augmented Reality (AR) technology facilitates indoor navigation when users can see the actual environment on their screens. 5G connection also enhances the indoor positioning accuracy and improves response time.

Applicable venues: Malls, Airports, Exhibition Centres, Transportation Hubs

CCTV: CCTV systems ensure building security and safety. Connected to control system via 5G networks, installation of security cameras becomes easier and more convenient. In addition, real-time video analysis is enabled with edge computing technology.

Applicable venues: Malls, Airports, Stadiums, Exhibition Centres

Sport Games: 5G improves the live experience for audience at sport venues, or bring stadiums and arenas closer to them at home with Virtual Reality (VR) technology [4]. Besides, match data that used to be only available in delayed mode, it has been made available in real-time via 5G.

Applicable venues: Stadiums, Malls
Global economy is recovering
After almost two years of lockdown and business closure due to the Covid-19 pandemic, many countries are slowly resuming social activities thanks to the availability of vaccines. In light of this, public events like music concerts, exhibitions, sports games are coming back with a more relaxed sitting capacity. Mobile operators should start to plan their 5G networks deployment in indoor venues. At Comba, we have the expertise to help operators make better 5G network planning to fulfil various needs.
Reference:
[1] 5G ecosystem report, Oct 2021, GSA
[2] Evolution from LTE To 5G, June 2021, GSA
[3] 5G global mobile network experience awards 2021, OpenSignal
[4] Bringing the heat to stadiums: Monetizing 5G immersive experiences, Ericsson
About KekSeng Mun
KekSeng Mun has been working in the telecom industry for over 10 years with rich experience in in-building DAS design, RF planning, and optimization. Mr. Mun is currently the Assistant Manager at Comba Telecom, responsible for In-building design and technical marketing support for Comba's global business.