Private Network: The Hidden Gem
The concept of private mobile network has been around for years, it is an end-to-end cellular network that deployed for a dedicated group of users or devices, other users are unable to access the network unless authorized. It is deployed to provide voice or data service in remote areas whereas public mobile networks cannot reach, such as mines. Due to the lack of business case, MNOs do not take a proactive approach for the private network. 
Private LTE/5G network will boost Industry 4.0
 In the transition to Industry 4.0, industries are aggressive in innovative ideas to streamline processes and improve productivity. Automation without human intervention is one of the key technologies of Industry 4.0. Enterprises start to realize the importance of indoor coverage which can support high-level QoS, low latency, high mobility performance and massive number of connected devices [1]. With the existing wired and WiFi network, it is insufficient to support use cases like AR/VR applications, autonomous guided vehicles, asset tracking and positioning, as well as real-time monitoring system. A private LTE/5G network will address these challenges. 
Localized spectrum around the globe 
Traditionally, radio spectrum is allocated to public MNO through an auction. Since it is a licensed spectrum, private network operators can only access the spectrum through sub-leasing from MNO. To avoid interference, a private network is only deployed in the area where MNO has no deployment. This imposes restrictions and limitations on private enterprise networks.
 When the growth of IoT connected devices is becoming strong, telecom regulators around the world start to reserve or allocate dedicated spectrum for a private network. Regions like Germany, UK, US, Hong Kong and Japan have already allocated spectrum in the frequency band around 3.5GHz, 4.9GHz and mmWave for private 5G network. It is believed that other countries would follow the same steps. 
The following figure shows spectrum allocation for private networks as of November 2020, based on the public information available from the internet.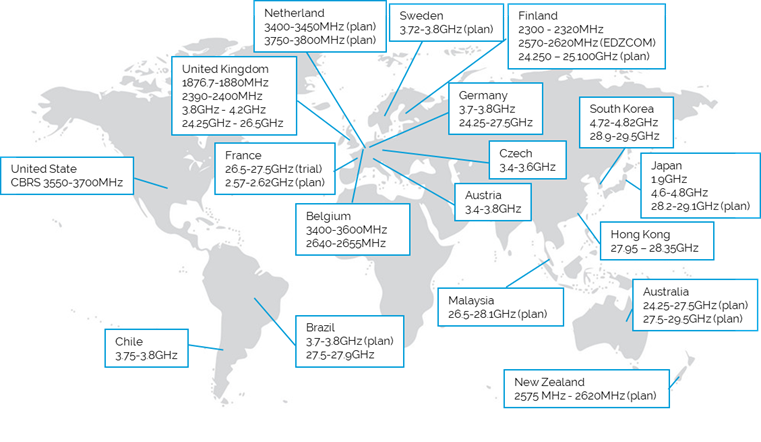 As a private network is not as common as a public network, there is no standardized deployment model. Its network infrastructure is usually owned by the enterprise, which is built either by network equipment vendor, neutral host or MNO. The most common network architecture in the market includes fully private, hybrid network or MNO's network slicing. 
• Fully Private: All network elements (RAN, Edge and application server, Core network) and management server are installed on-premise. Self-manage by an enterprise or appointed network profession. 
• Hybrid Network: RAN, Edge and application server, as well as Core network deployed on-premise. The management server will be installed in the cloud which is managed by a third-party host. 
• MNO's slicing: RAN, MEC and application server remain on-premise. Core network function will be provided from MNO's Core using the technique called "slicing". 
One-stop service is preferred 
Not all enterprise has the expertise to evaluate the best solution for their own network, perhaps only top-tier corporate has the resources to employ an in-house team to perform the task. To fill this gap, most of the enterprises would prefer to work with network provider that offers a complete portfolio embracing indoor and outdoor small cells, base station, core network, MEC and cloud server, applications, as well as user equipment. It involves different vendors ranging from telecom equipment, cloud provider, IoT devices to software companies. 
Today, enterprises are still at the early stage in exploring private network's capabilities. However, it is not premature for industry players to begin to study the possibilities and new business cases that lie in the private network. With the increase of spectrum availability and business cases, the private network has big potential in long run. 
---
 [1] Reference: "Private networks and shared spectrum: making the 5G enterprise a reality", 14 May 2020, Rethink Research