ANNABEL HUO, EXECUTIVE DIRECTOR AND SENIOR VICE PRESIDENT OF COMBA TELECOM HONORED AT YOUNG INDUSTRIALIST AWARDS OF HONG KONG 2020
Accolade recognizes her outstanding achievements in business and contributions to the development of Hong Kong
(16 November 2020, Hong Kong) – Comba Telecom Systems Holdings Limited ("Comba Telecom" or "the Group", SEHK stock code: 2342), a global leading solutions and services provider of wireless and information communications systems, announced that Ms. Annabel Huo, Executive Director and Senior Vice President of Comba Telecom, President of Comba Telecom International has been named a winner of the Young Industrialist Awards of Hong Kong ("YIAH") 2020. The award was officially presented by the Hon Mrs. Carrie Lam, Chief Executive of the HKSAR at the awards presentation ceremony on 13 November 2020.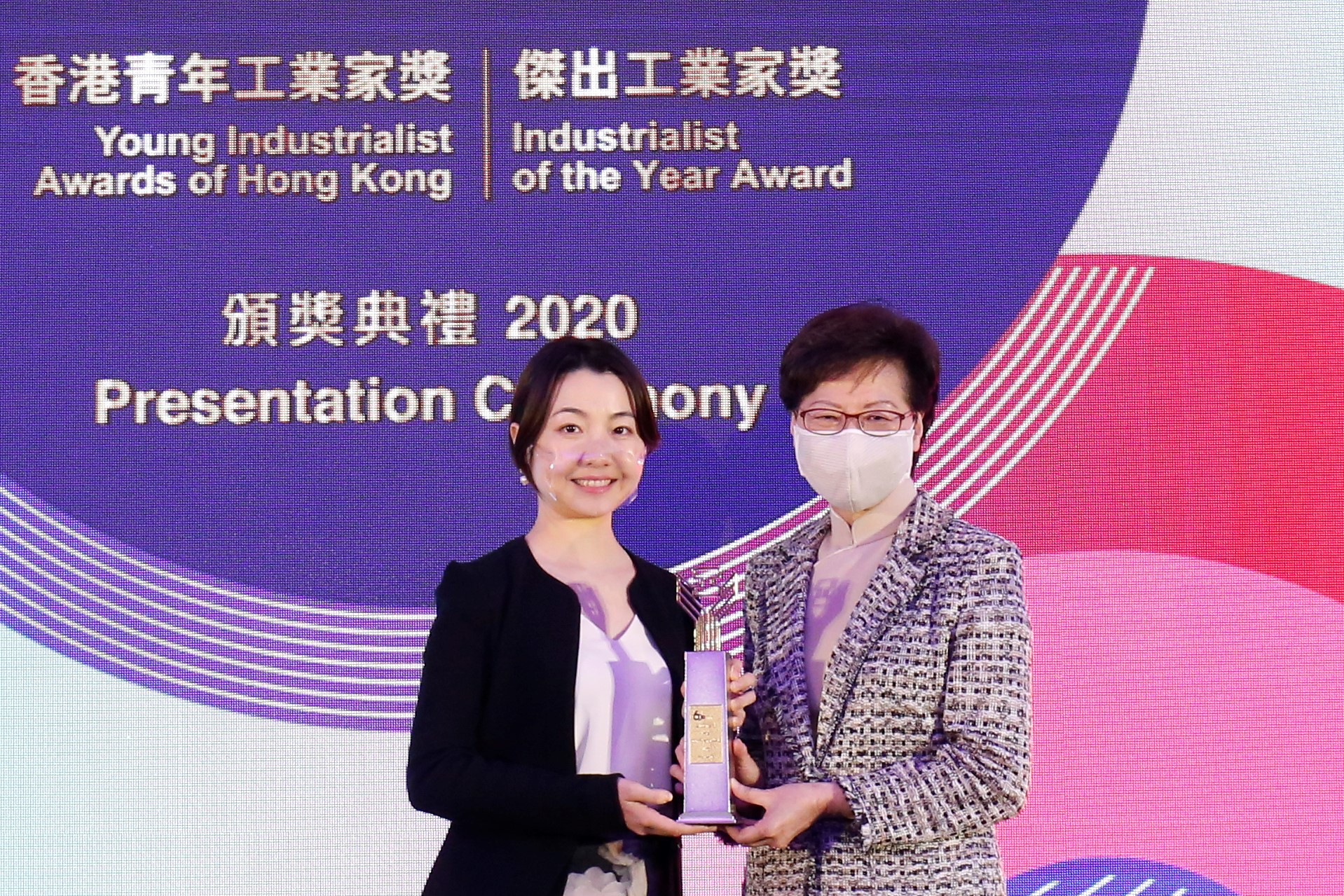 The Hon Mrs. Carrie Lam, Chief Executive of the HKSAR presenting the Young Industrialist Awards of Hong Kong 2020 to Annabel Huo
Conferred by the Federation of Hong Kong Industries ("FHKI"), the YIAH is a representative industry event which recognizes outstanding young industrialists for their remarkable achievements and significant contributions to their businesses, and for being prominent industry and community leaders. 
As the president of Comba Telecom International, Ms. Huo occupies a key role in leading her team to expand the Group's global business and bringing Comba's innovative wireless technologies from Hong Kong around the globe. 
Headquartered at Hong Kong Science Park, Comba has a diversified product portfolio and strong innovation capabilities with its own R&D. In recent years, the Group has made a remarkable development of the international business, Comba Telecom is ranked as a number 1 DAS vendor in APAC [1], an Open RAN Radio Unit frontrunner in the market [2] and is repeatedly named as a global tier-one leader in base station antennas [3]. 
As an awardee of YIAH 2020, Ms. Huo is not only contributing to the Group's development and growth, and also the technology advancement and development in the wireless communications industry at large. 
Ms. Annabel Huo, Executive Director and Senior Vice President of Comba Telecom, President of Comba Telecom International said, "It is my honor to receive the award. This achievement is the result of the joint efforts of the whole Comba Telecom team, our business partners, and our customers. They have all made valuable contributions in supporting me to drive technologies and innovations and bring advanced communications technology to the community. Comba Telecom and I will continue our efforts in technology advancement and further nurturing network technology development in Hong Kong and around the globe." 
Dr. Claudia Xu, Chief Commercial Officer of Hong Kong Science and Technology Parks Corporation, Nominator of the award said, "My warmest congratulations go to Annabel for being selected as the YIAH awardee. Annabel is a visionary industrialist who has demonstrated her outstanding leadership in contributing to its company as well as the innovation and technology ecosystem. It's exciting to see one of the innovators at Science Park to earn this well-deserved accolade."
---
[1] "DAS Equipment Market Report 2019", IHS Markit, 2019 
[2] "Vodafone IDs Open RAN radio unit frontrunners", TelecomTV, Ray Le Maistre, Oct 6, 2020, https://www.telecomtv.com/content/open-ran/vodafone-ids-open-ran-radio-unit-frontrunners-39841/ 
[3] "Global BTS Antenna Market Analysis and Forecast, 2019-2023 (11th Edition)", EJL Wireless Research, 2019